Tuesday, June 29, 2010


"Will you still need me, will you still feed me,
When I'm sixty-four?" - (Lennon/McCartney - 1967)
Posted by

max bromeo
at 12:27 AM
4 comments

Sunday, June 27, 2010
Our good pal in Berlin (via Dublin) DJ Wool has another release out. And I'm pretty fucking wild about it. Sounds like he's been in Berlin for a bit, if you ask me. It drops tomorrow, June 28th on Beatport, go grab it. You'll be glad you did. Here's the vid:




Hot on the heels of the Das Shadow and Broad Bean Band releases, the new true-blue MONOlith label/collective known as We Collect Enemies hits you across the back with another banger by a brother under another name.

DJ Wool (AKA one 3rd of the originators of the WCE clique) has been on a tear for the last year with non-stop remixes, singles and new material for his group The Glass. Here he is with yet another feather in his cap, this time under the ID known as The Dark Snuggler!

Described as a "techy and breaky club banger" with hints of Detroit and bass, he's aiming this inaugural release at a bullseye on a target that exists in a place between fidget house, techno and dare we say, old school hip-hop? Whatever it gets described as, it bumps and clouds the dance floor like a smoke machine on auto.

With remixes by Lars Moston (Moston & Malente), Boeoes Kaelstigen (Adrian Recordings, Sweden) and Jetlag (collab. between The Smiths' bassist Andy Rourke, yes THE Smiths and Russian/NYC DJ Ole), the release promises to pack lots of pop for the price coming from your pocket. A definite natural disaster in these days of earhquakes, oil leaks and volcano eruptions courtesy of the kind people over at We Collect Enemies. The 'Detroit' inspired video hits a youtube near you real soon...

'The Dark Snuggler' will be released exclusively on Beatport on 28th June 2010 and other download sites from 12th July.
Posted by

max bromeo
at 3:00 PM
0 comments

Wednesday, June 23, 2010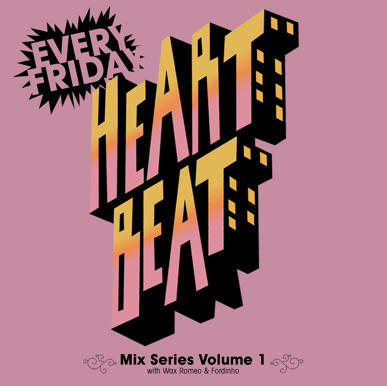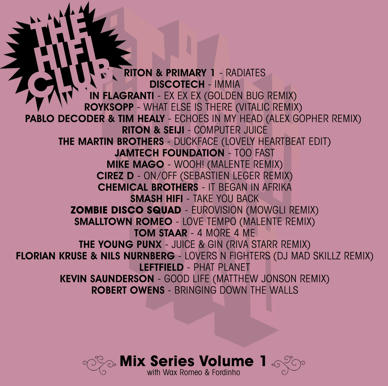 Hey, so about a month and a half ago, myself and good pal, the venerable Dj Fordinho took on a new Friday night at the Hifi club. It's been unbelievably fun and such a fucking shit show. Here's the linky to the
Facebook group
. We loved the first few nights so much, that we decided to do a mix every 6 weeks or so, and here's the first one:
The Heart Beat - Vol. 1
I think it turned out super well, and it was a blast making it. So cop that shit and blast it wherever, whenever, and above all, always.
Let's have a nice time.
Tracklist:
RITON & PRIMARY 1 - RADIATES
DISCOTECH - IMMIA
IN FLAGRANTI - EX EX EX (GOLDEN BUG REMIX)
ROYKSOPP - WHAT ELSE IS THERE (VITALIC REMIX)
PABLO DECODER & TIM HEALY - ECHOES IN MY HEAD (ALEX GOPHER REMIX)
RITON & SEIJI - COMPUTER JUICE
THE MARTIN BROTHERS - DUCKFACE
JAMTECH FOUNDATION - TOO FAST
MIKE MAGO - WOOH! (MALENTE REMIX)
CIREZ D - ON/OFF (SEBASTIEN LEGER REMIX)
CHEMICAL BROTHERS - IT BEGAN IN AFRIKA
SMASH HIFI - TAKE YOU BACK
ZOMBIE DISCO SQUAD - EUROVISION (MOWGLI REMIX)
SMALLTOWN ROMEO - LOVE TEMPO (MALENTE REMIX)
TOM STAAR - 4 MORE 4 ME
THE YOUNG PUNX - JUICE & GIN (RIVA STARR REMIX)
FLORIAN KRUSE & NILS NURNBERG - LOVERS N FIGHTERS (DJ MAD SKILLZ REMIX)
LEFTFIELD - PHAT PLANET
KEVIN SAUNDERSON - GOOD LIFE (MATTHEW JONSON REMIX)
ROBERT OWENS - BRINGING DOWN THE WALLS
Posted by

max bromeo
at 12:54 PM
1 comments