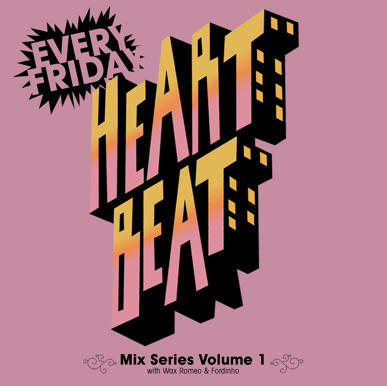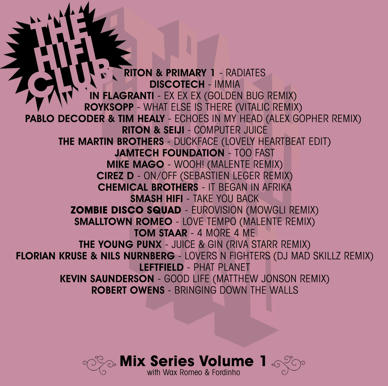 Hey, so about a month and a half ago, myself and good pal, the venerable Dj Fordinho took on a new Friday night at the Hifi club. It's been unbelievably fun and such a fucking shit show. Here's the linky to the
Facebook group
. We loved the first few nights so much, that we decided to do a mix every 6 weeks or so, and here's the first one:
The Heart Beat - Vol. 1
I think it turned out super well, and it was a blast making it. So cop that shit and blast it wherever, whenever, and above all, always.
Let's have a nice time.
Tracklist:
RITON & PRIMARY 1 - RADIATES
DISCOTECH - IMMIA
IN FLAGRANTI - EX EX EX (GOLDEN BUG REMIX)
ROYKSOPP - WHAT ELSE IS THERE (VITALIC REMIX)
PABLO DECODER & TIM HEALY - ECHOES IN MY HEAD (ALEX GOPHER REMIX)
RITON & SEIJI - COMPUTER JUICE
THE MARTIN BROTHERS - DUCKFACE
JAMTECH FOUNDATION - TOO FAST
MIKE MAGO - WOOH! (MALENTE REMIX)
CIREZ D - ON/OFF (SEBASTIEN LEGER REMIX)
CHEMICAL BROTHERS - IT BEGAN IN AFRIKA
SMASH HIFI - TAKE YOU BACK
ZOMBIE DISCO SQUAD - EUROVISION (MOWGLI REMIX)
SMALLTOWN ROMEO - LOVE TEMPO (MALENTE REMIX)
TOM STAAR - 4 MORE 4 ME
THE YOUNG PUNX - JUICE & GIN (RIVA STARR REMIX)
FLORIAN KRUSE & NILS NURNBERG - LOVERS N FIGHTERS (DJ MAD SKILLZ REMIX)
LEFTFIELD - PHAT PLANET
KEVIN SAUNDERSON - GOOD LIFE (MATTHEW JONSON REMIX)
ROBERT OWENS - BRINGING DOWN THE WALLS